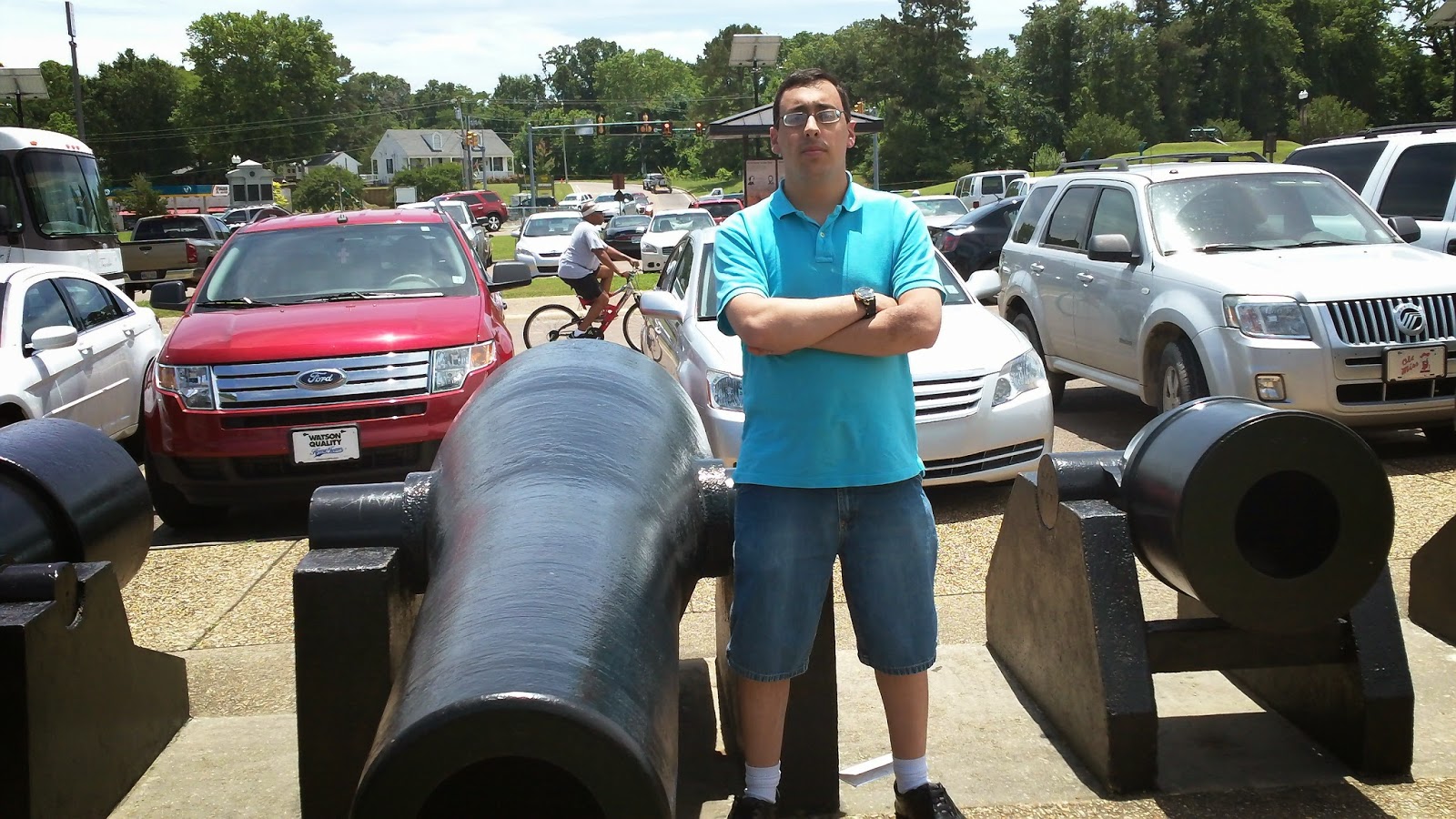 This past week I was at the Mississippi Library Association conference.  While my main purpose in going was to present a poster it was nice to see friends both new and old.  It was also a chance to revisit a city I'd been to only briefly over Memorial Day weekend 2013.  You might remember the MLA conference from when I wrote about it last October.  Then it was in Biloxi. This time it was held in Vicksburg which is located at the southern end of the Delta about two hours from Cleveland.   The last time I was there, it was to visit the Vicksburg Military Park which commemorates the Siege of Vicksburg in 1863.  You can see pictures from that trip, such as the one above, here.  While the park was great it is on the edge of the city and so there wasn't much chance to see the rest of the area.
However with MLA being at the Vicksburg Convention Center, this year was different.   My hotel was a half mile away in downtown not far from the river.  Interestingly it turns out that the body of water running past the city is not the actual Mississippi River.  In 1876 it suddenly changed course leaving the city high and dry.  So in 1902, the Army Corps of Engineers diverted part of the nearby Yazoo River thus giving Vicksburg its river back.
The city itself is not large.  There is a small downtown area centered around Washington and Clay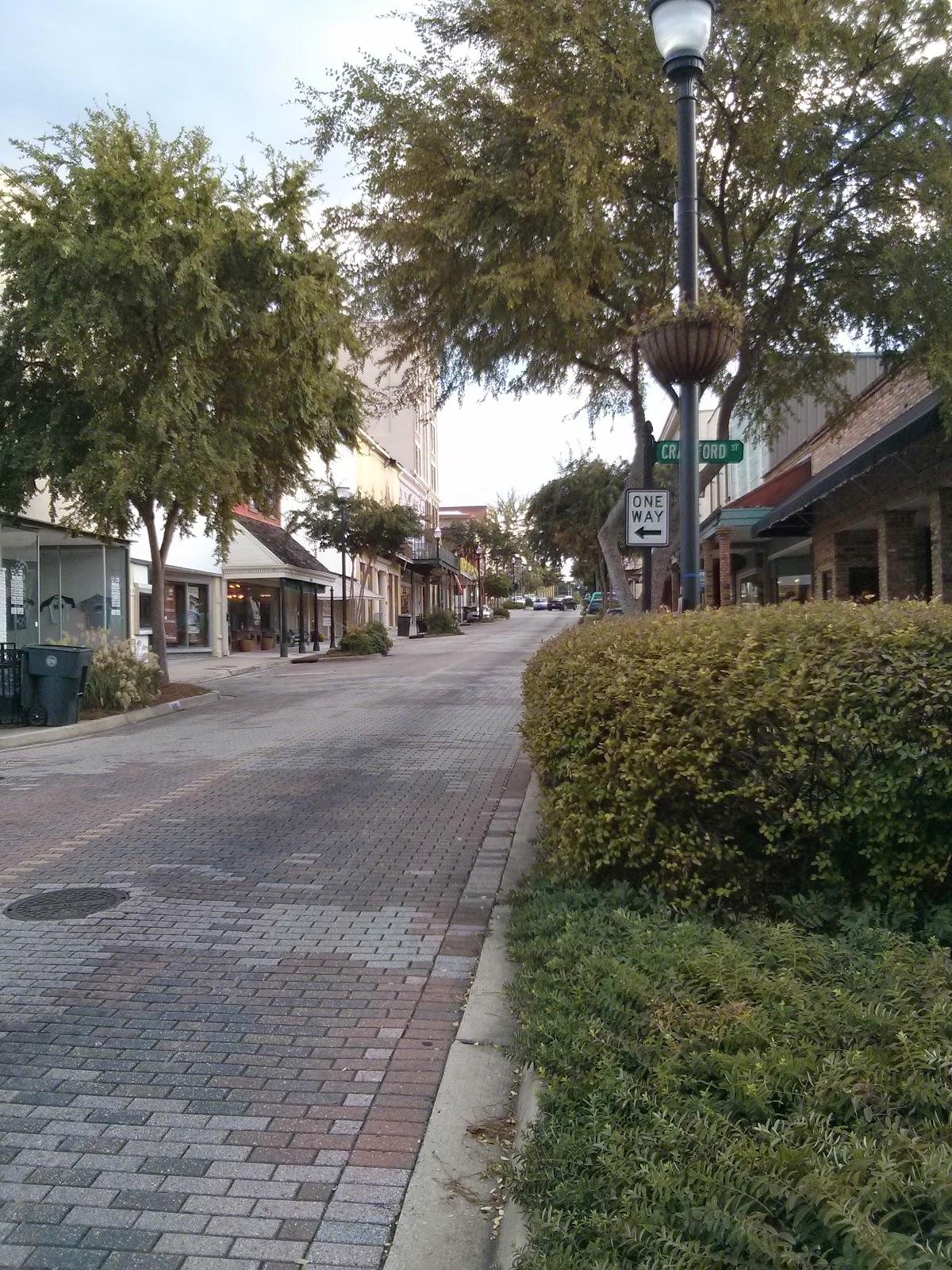 Looking down Washington Street, Vicksburg
Streets (see right).  There are shops and a few restaurants around here plus the convention center and Portofino Hotel not far away on Mulberry Street. Along the river itself there is a park and a set of murals painted on the concrete levee which adds character to what would otherwise be an eyesore.  Farther afield you find the casinos as well as more restaurants.  Vicksburg also has a lot of historic homes and a few Bed and Breakfasts.  And the movie, O Brother Where Art Thou? was, in part, filmed in Vicksburg.  In fact MLA had its reception at the place where the stage scene was shot.  Here is the proof.  All of that is in addition to the Military Park which wraps around the north and east sides of the city plus a cluster of motels and fast food chains by Interstate 20.
All of that sounds very quaint and to a certain extent it is. The city does have a lot of history.  But it doesn't have much more than that other than gambling.  The downtown is small and sparse with few places open after dark.  Having traveled down with someone else I was restricted to walking around. The situation was not as bad as last year's MLA conference.  The Portofino Hotel (where I stayed) was close to downtown so I was not too isolated.  But Vicksburg doesn't have a lot of hot spots (wi-fi aside).  This is someplace you come to appreciate the past, not enjoy the present.
That's the story of the Delta in many ways.  Driving south on Highway 61 you really get a sense that this is a place that has seen better days.  After Leland, the road narrows and all you see is cotton and trees.  There is hardly even a street light until you get to Vicksburg.  The towns you pass through, such as Rolling Fork and Anguilla, aren't exactly happening.  At one point these were thriving places, but time and out-migration have taken their toll.  Cleveland is different because Delta State and the USDA lab in Stoneville attract people from all over the place.  Thus we have a thriving local business community and strong culture around here.  Most places aren't so lucky.
Yet things may perhaps be changing.  There is plenty of history, not just in Cleveland but around the Delta in general.  People already travel here to appreciate that in general and of the Blues in particular. With the Grammy Museum opening a branch in Cleveland next year more people will come.  The thinking is that it will act as a catalyst for future growth.  I cannot comment on that much, but I hope so.  The people of the Delta deserve a lucky break.
In the mean time, here are some more pictures from the trip.