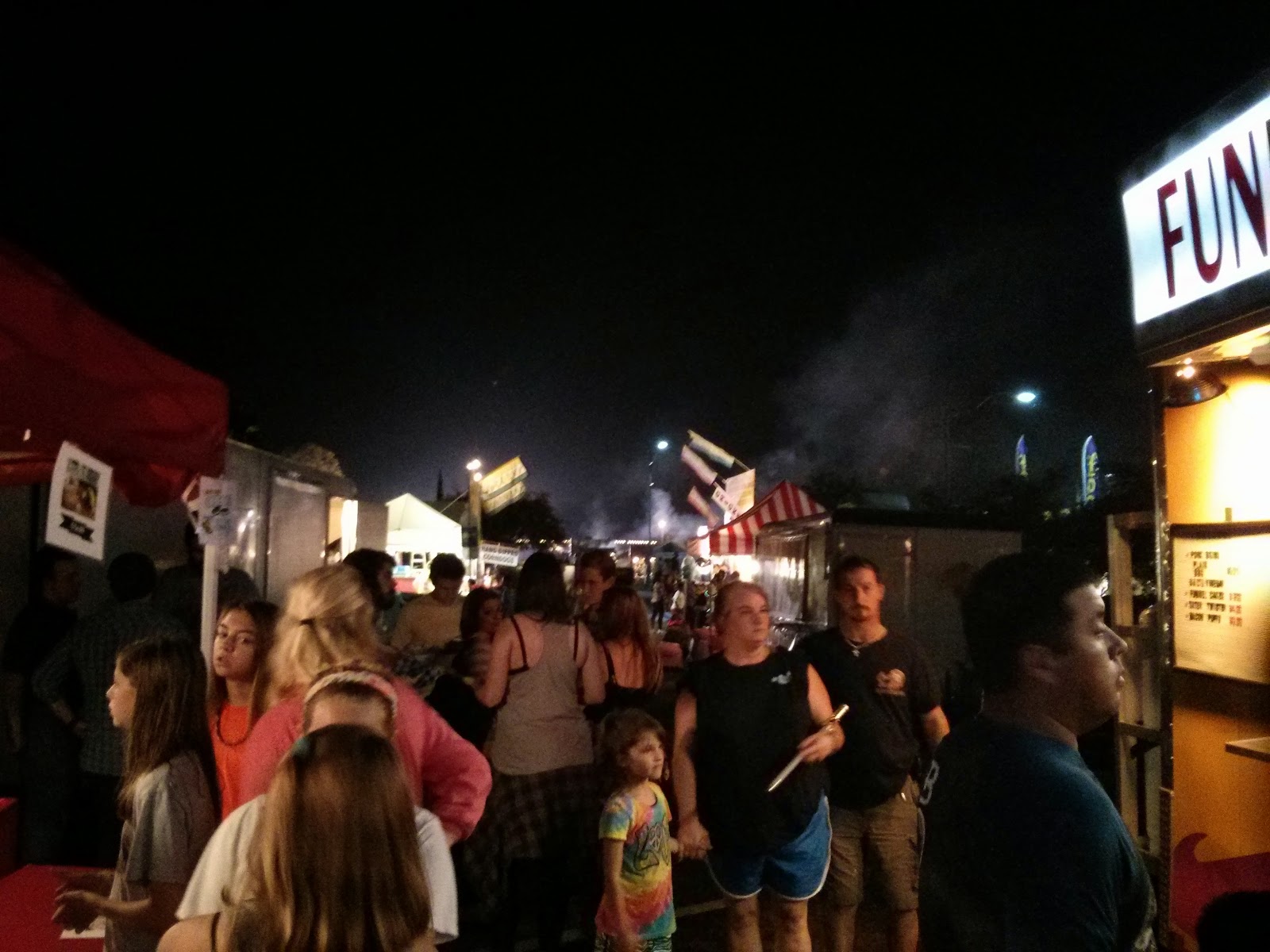 It's that time of year again.  It's mid-October and so festival season is winding down.  Around here that means Octoberfest.  You might recall that I wrote about the event last year.   Basically, Octoberfest is an annual barbecue competition and street fair spanning two days in the second weekend of October.  There's the usual assortment of fried food (see below) plus live music.  On Saturday the crafts vendors show up. It's a good time where basically the whole town shows up.
Octoberfest really has something for everyone.  Friday night is party night.  Saturday is shopping day. There's also the barbecue competition which spans both days. More on that in a minute.  As with last year it rained.  That seems to be a tradition.  This year it was more of the soaking variety which scared away most of the vendors.  Saturday ended up being a washout.   All the same I had a good time.
Unlike last year, I got to go behind the scenes.   Several weeks ago the Cleveland Chamber of Commerce put out a call for volunteers.  Option one was the concession stand.  But in a past life I worked at a movie theater.  So selling soda brings back memories.  Besides, everyone helps out at the concession stand.  Options two was to assist the barbecue competition.  Exactly in what capacity was not clear.  But I've wanted to go behind the scenes of these barbecue competitions for a while and this seemed like the perfect opportunity to do so.  So I took the red pill and jumped down the rabbit hole.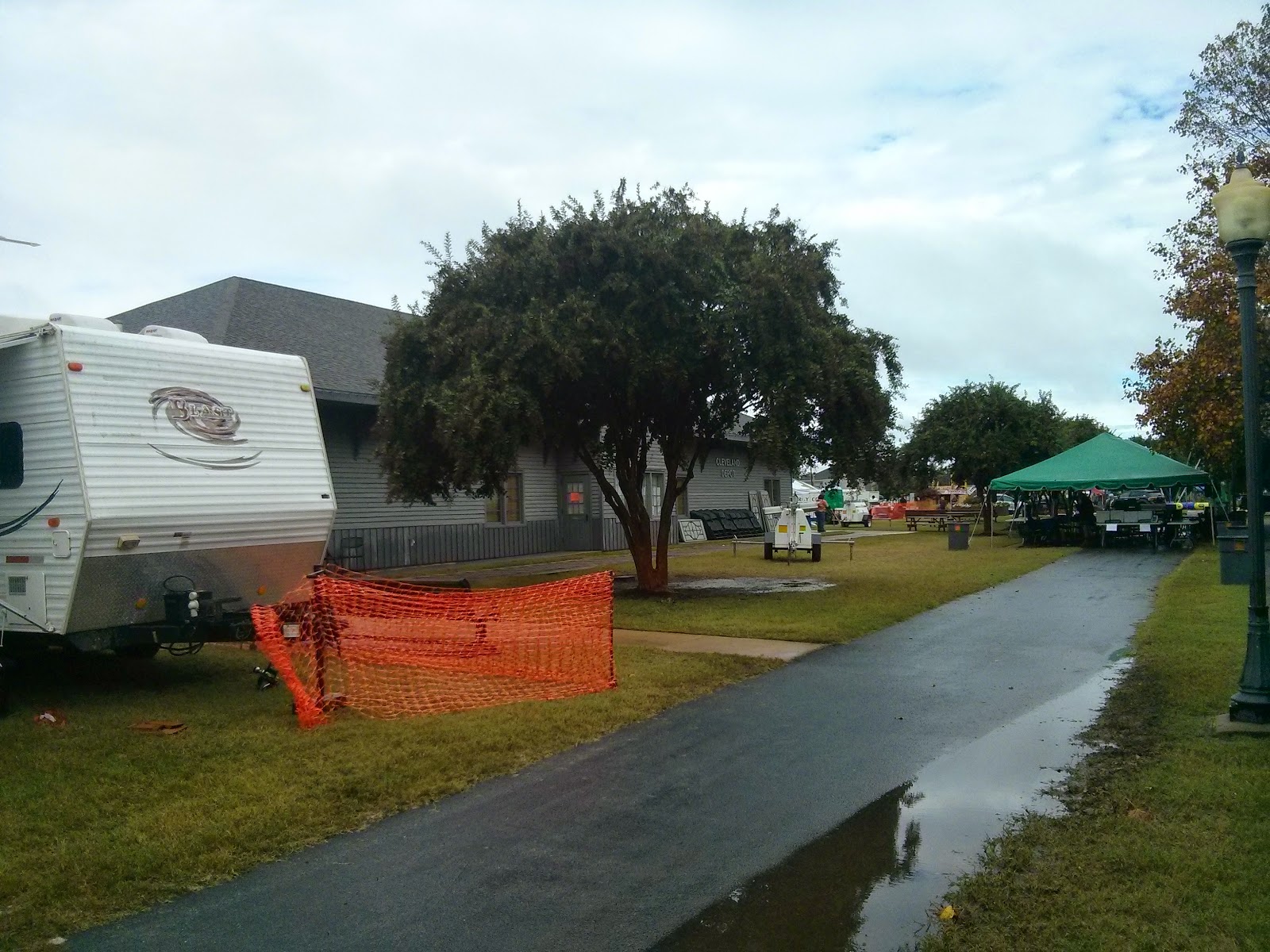 The heart of the action was at this unassuming grey building which once used to be a train station.  That's where the judging happens and where the competition headquarters are located. There are no outward signs of this except some notices not the enter.  Actually finding out what I was supposed to do took some work.  The judging is all kept under wraps to the point where only people involved know about it. But eventually I located the organizer and was given my marching orders which were to clean off the tables after each round of judging and prepare them for the next one.
My initial fear was that all of the people at the competition would be super insular and unfriendly. Nothing could further from the truth.  Everyone I met there were very nice and willing to answer my questions.  The officials were very happy that someone was willing to step up and help.  The only other folks who'd come to do so were some athletes from Delta State who'd been voluntold by their coaches.   Possibly for that reason everyone thought I was a student.
The barbecue competition works as follows.  There are three different levels.  Patio is the little leagues.  These folks are just starting out or only in it for the fun.  Above that are the Challengers. These people have moved up and are working on going pro.  The Pro division is at the top.  These are the people who will go on to The World Barbecue competition in Memphis.  Having three divisions allows regular folks to get in on the action and still stand a chance of eventually working their way up.
Food wise there are a number of categories.  Friday night was sauce, beans, chicken, and seafood. This was the more laid back day.  Saturday was when the real action was.  I was assigned to help check in barbecue samples from Patio teams.  Here we had pulled pork, ribs, and loin.  The Challenger and Pro Divisions had slightly different categories such as whole hog and pork shoulder. There is also a decoration division for those teams who wish to decorate their setups.  Teams have a choice of which category to submit to although most seemed to put entries into all of them.  The Grand Champion gets to take home this massive trophy.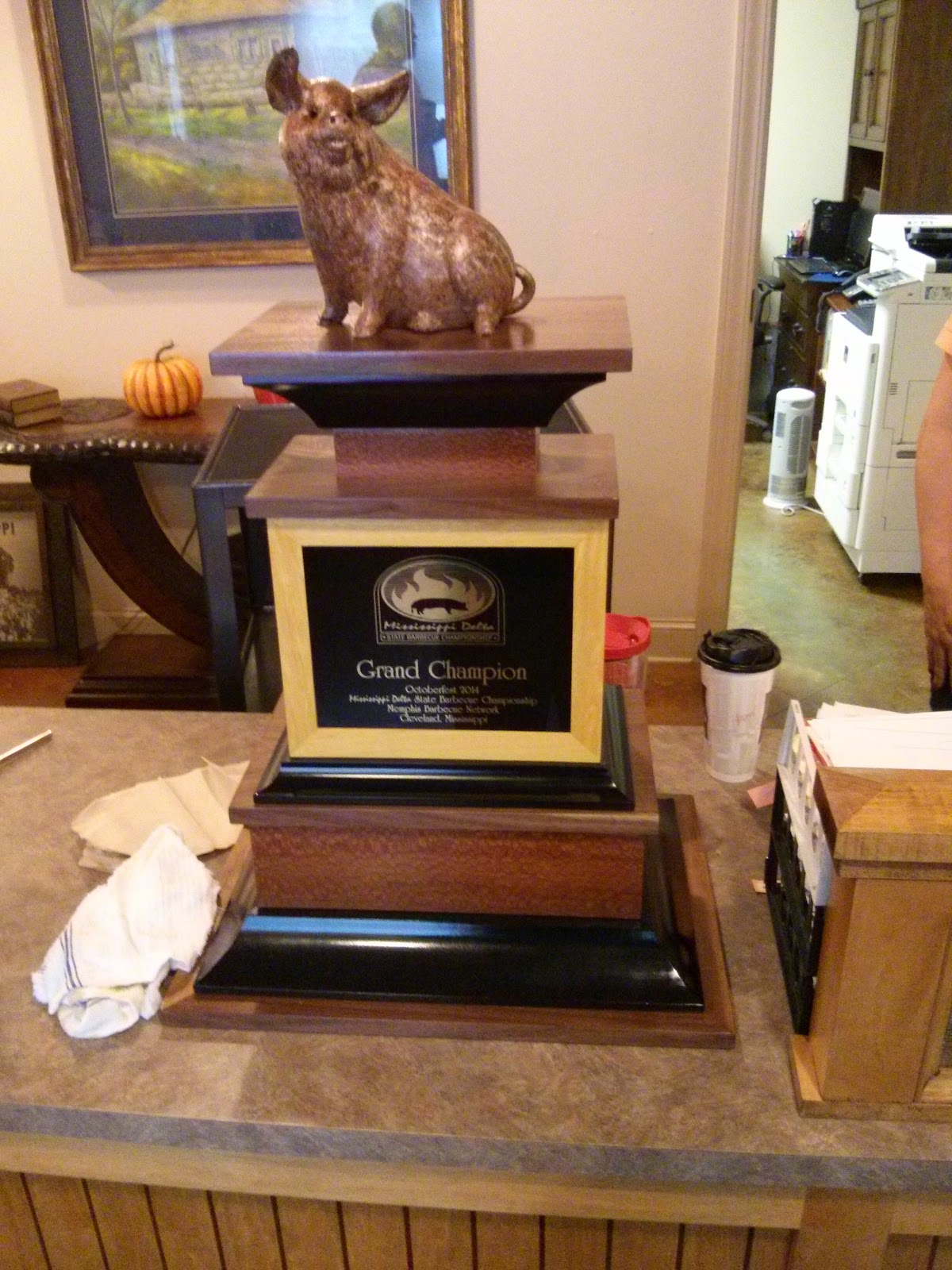 The actual judging is done by plain, ordinary folks.  The process of becoming a judge, at least around Cleveland, is not hard.  All one has to do is take a class and join the Memphis Barbecue Network as a judge.  There are four criteria: flavor, appearance, texture, and overall experience.   Texture primarily means not too tough or mushy.  In other words not over-cooked or under-cooked.  Everything else is up to the judges (of which there were more than forty for all divisions combined).  There are rules surrounding how food must be submitted, but much of the competition is free form.
And that food was good.  Some of the officials knew teams and I was able to have the most amazing pulled pork and ribs of my entire life.  Much of the leftovers are donated to the local police and fire departments and volunteers could pick a little too.  There is a world of difference between this and that poorly seasoned, somewhat dry stuff that gets sold to spectators.   It really makes me want to get my own smoker and cook some pulled pork and ribs not to mention sausage.
These sorts of experiences make life in Cleveland worth it.  You really have to know the right people in order to get by in a small town.  However I have found that being willing and eager to help others will go a long way to making friends.  Asking questions helps too since it shows interest.  Of course there is only one Octoberfest per year.  But having to wait just makes the experience all the more sweeter.In the mean time you can check out more images of Octoberfest
here
.