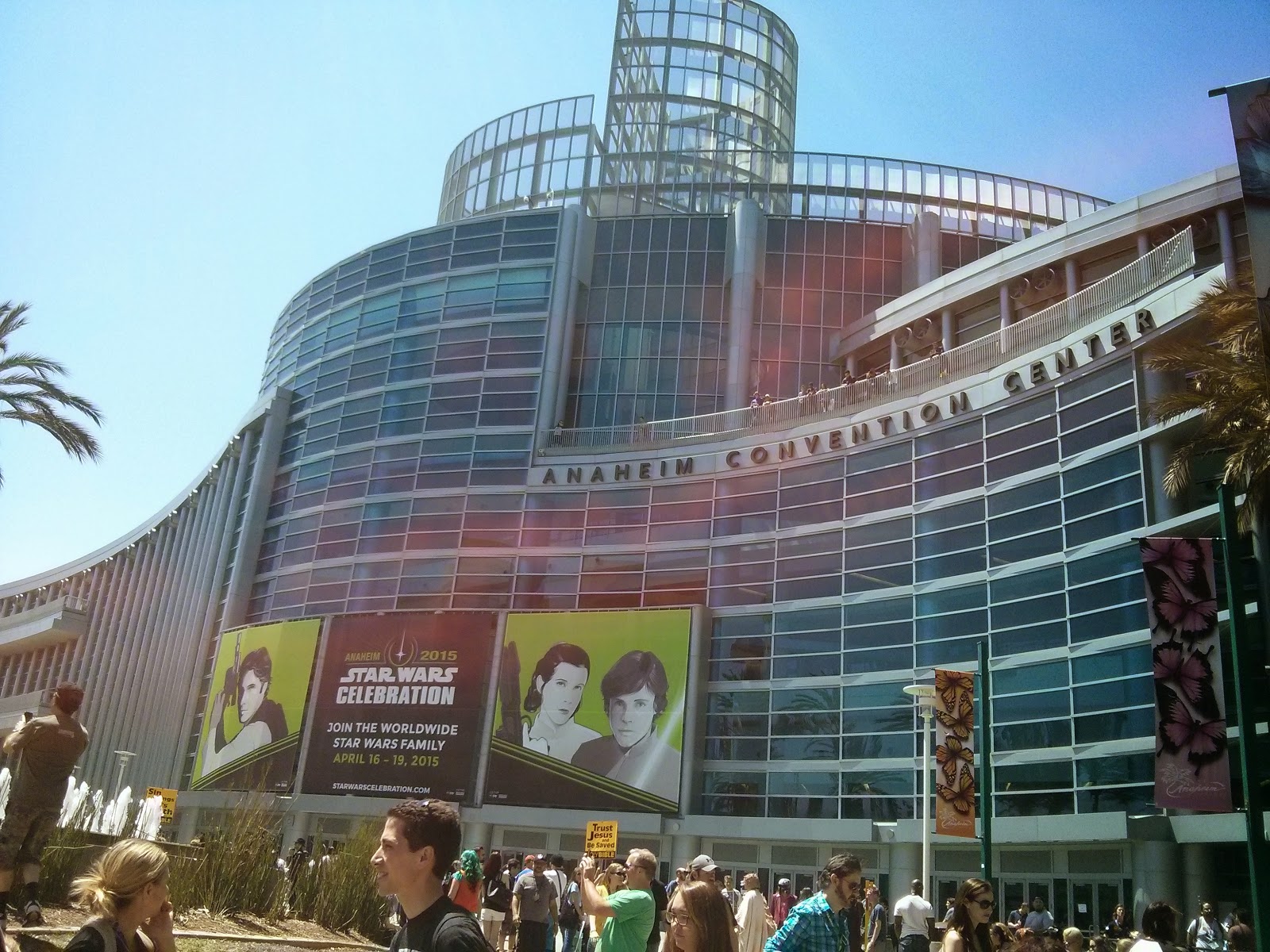 Last week something special happened.  I traveled to Anaheim, California for Star Wars Celebration. Some of you might a little surprised to read that, but yes I am a huge fan.  Mark Hamill calls us the Ultra Passionate Fans and the term definitely applies to me as you shall see below.
First a bit of background. Star Wars Celebration began as a fan convention in 1999.  It was first held in Denver, then Indianapolis in 2002 and 2005.   Celebration quickly outgrew that location and moved to Los Angeles in 2007.  Since the fourth event, it has been held in Orlando, London, Japan, Germany, and Anaheim.  Next year, Celebration will return to London's ExCel Center.  I first attended Celebration IV.  Being surrounded by nothing, but Star Wars for five days was a positively transcendental experience.  I met Carrie Fisher and got her autograph.  In 2010, I went to Celebration V and waited in line for 8 hours to see John Stewart interview George Lucas.  Unfortunately the realities of budget and graduate school resulted in me skipping Celebration VI and so the convention in Anaheim was my first in five years.  Over time Celebration has become less fan oriented and more commercial.   It is now controlled exclusively by Lucasfilm and Disney, who contract with ReedPop the organizers of several conventions including New York Comic Con.  Still it was a good time.
It all began Wednesday evening.  The biggest event was the opening ceremonies on Thursday. Lucasfilm was vague about what would happen, but we all knew there'd be a new trailer and probably some good info about the new film.  So naturally the line began forming for the day before on Wednesday morning.  By the time my flight arrived that night there were already rumors floating around that the line had been capped.  Being tired I wasn't sure if waiting overnight was something I really wanted to do.  After all the event was being simulcast around the world.  I could have simply slept in and watched it from my hotel room.  Really though that would not have been fun.  So on a whim I hopped onto the end of the line.  Due to the demand the line was in Hall E, also known as the basement of the convention center.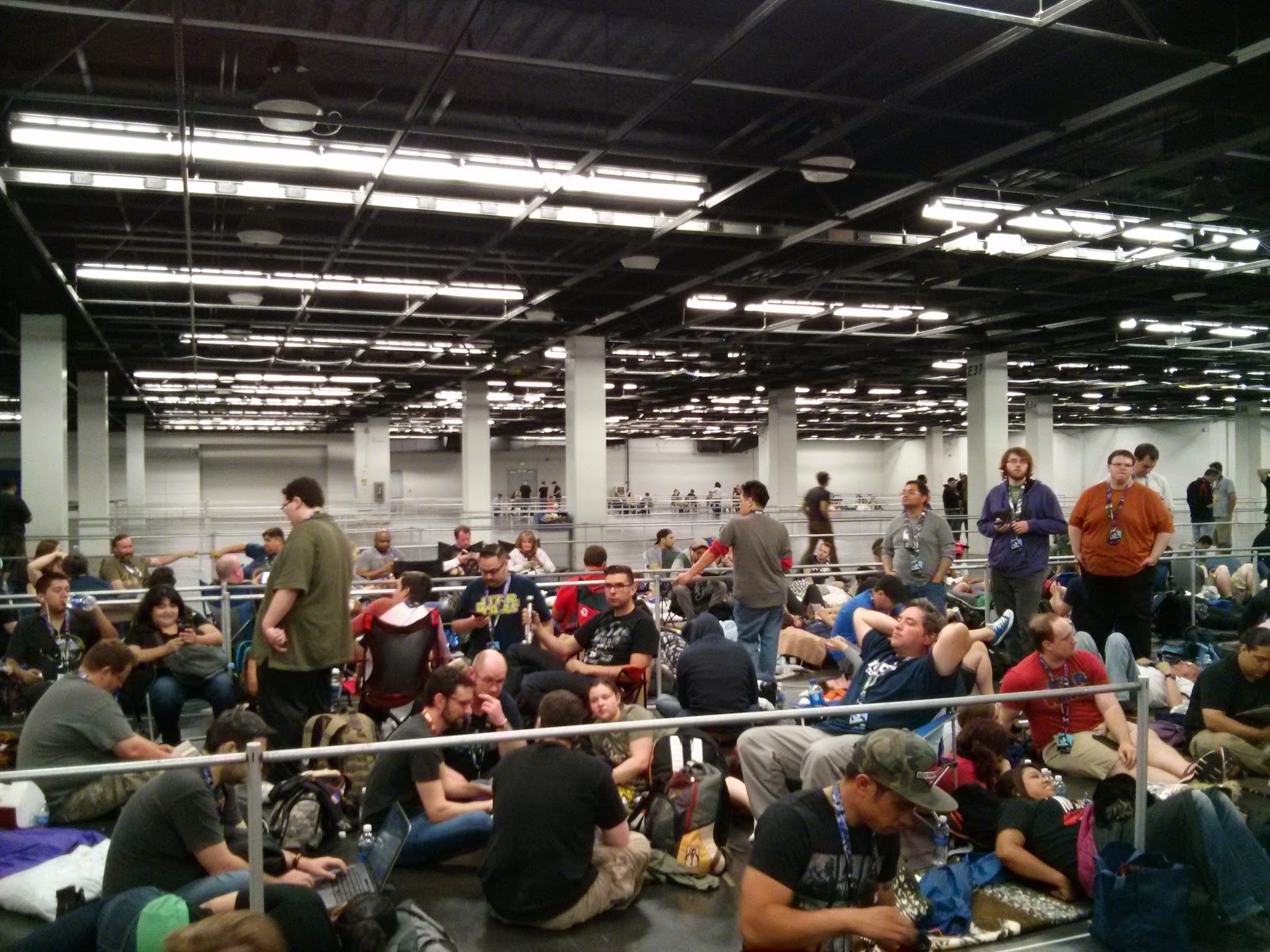 Hall E of the Anaheim Convention Center at around 10PM
Wednesday.
The picture at left was taken upon my arrival at about 10 PM.  By the next morning that hall was filled to capacity.  Sadly my phone was low on battery power by then so I don't have a picture. In many ways it felt as if Lucasfilm had stuck us in a dungeon.  There were bathrooms and a concession stand, but only a hard concrete floor to sleep on.  Also we couldn't leave.  Once I did and had to go to the end of the line and sneak back to my space in front.  Fortunately Kathleen Kennedy was nice enough to buy pizza for everyone.
But the wait was worth it.  After twelve hours of waiting (and nearly 20 tantalizing minutes staring at the entrance to the arena where the panel was held) we were treated to a discussion about the new film, Star Wars: The Force Awakens.   Not only were J.J. Abrams and Kathleen Kennedy there, but they brought out Mark Hamill, Carrie Fisher, Peter Mayhew (Chewbacca), a squad of the new stormtroopers, a life size BB-8 (the rolling ball from the first teaser trailer) plus three of the new actors from the movie, Daisy Ridley, Oscar Issacs, and John Boyega.  They not only gave us a new teaser, but showed it twice.  We were all exhausted, hungry, and badly needing to pee, but as soon as that music came on were on our feet.  Seeing Star Wars on screen gave us all a sudden boost of energy.  By the end most of the audience was in tears and with our voices hoarse from screaming.  It was easily the best event of the convention.  Naturally I didn't bother to take a break afterwards, but went on to get Ian McDiarmid's (Emperor Palpatine) autograph and even went to another event later that day.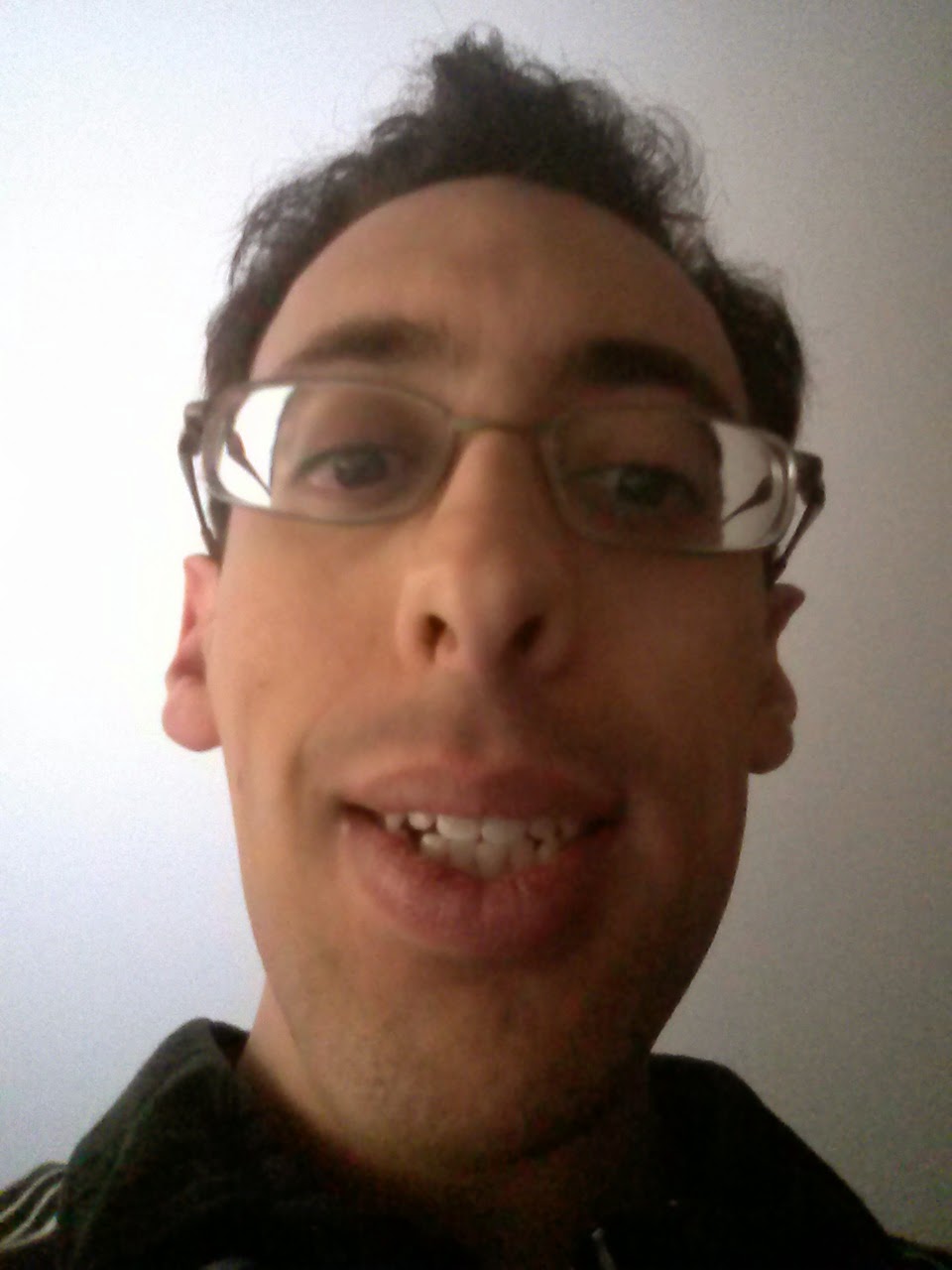 Around noon on Thursday, April 16th.  I had not slept since
getting up at 5:30 am Wednesday morning.
All told I went more than 36 hours without sleep and nearly 24 hours without eating a regular meal. The whole experience of that day was down right spiritual.
The joke is that Star Wars fans go to conventions to wait in line.  Truthfully we do, but not because of crowds.  Waiting in line at a Star Wars Convention is a social experience.  You meet amazing friends that way.  In fact I did exactly that.  Upon arriving at the convention center Wednesday I sat down next to four other guys all of whom were there alone.  They came from places as far away from Southern California as West Virginia, Utah, and Belgium.  We talked about all sorts of things and stuck together all the way through the convention even waiting together in line again for the closing ceremonies. Thankfully we only had to wait about three hours for that event.
Clearly then I had a good time.  There were other panels and events.  I got the chance to see the season premier of Star Wars Rebels (its awesome) and get Mark Hamill's autograph. Having forgotten my chosen picture at home when attending Celebration it feels great to finally add that second signature.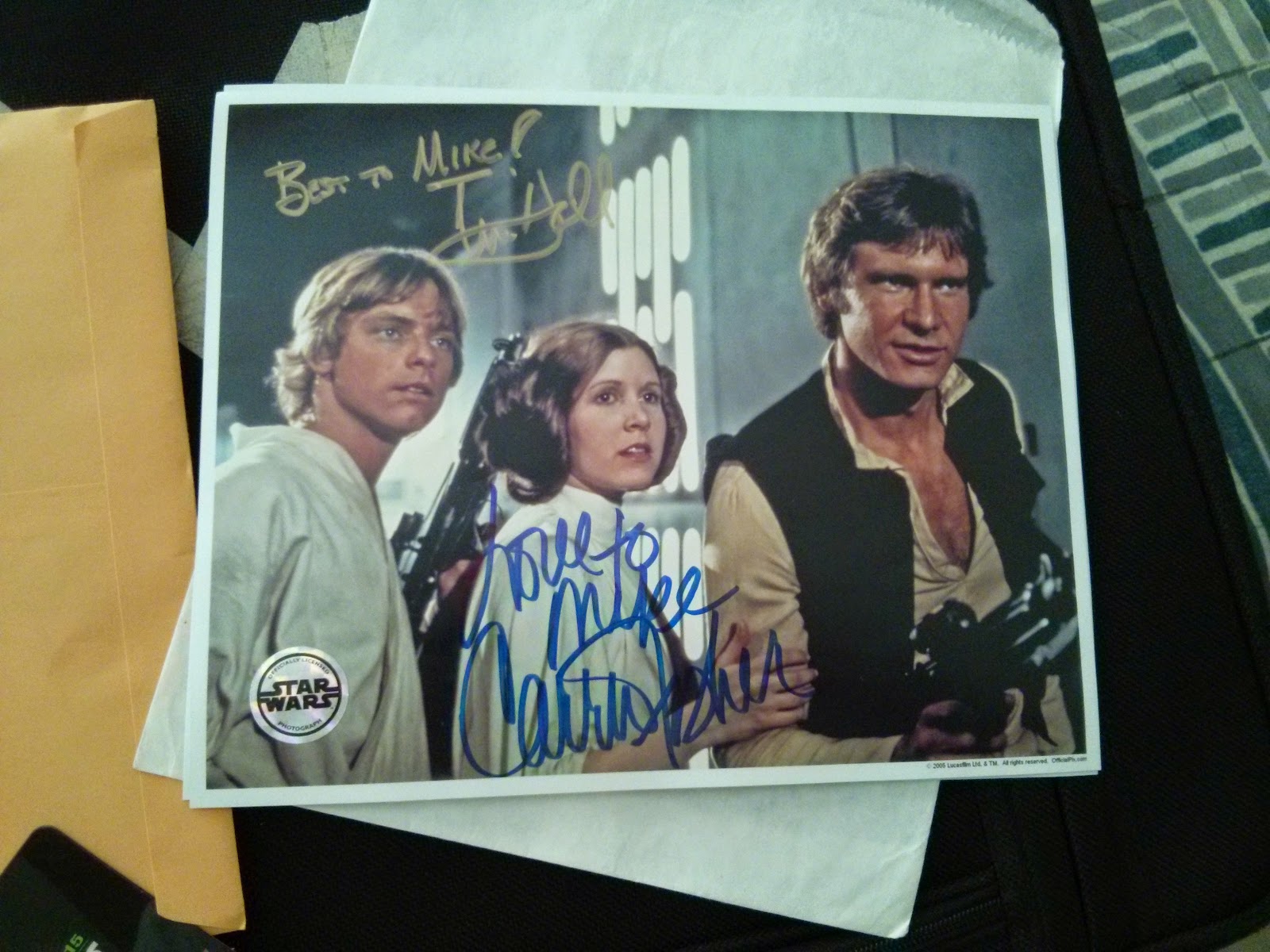 Carrie Fisher signed this in 2007 at Celebration IV.
I also decided to volunteer for Official Pix, the company who runs the autograph hall at Celebration.  In the process I met, Peter Mayhew, Anthony Daniels, Daniel Logan (Boba Fett from Episode II) and Carrie Fisher albeit briefly. Logan even shook my hand which was cool.  In return for volunteering, Official Pix gives out a package containing a few of their lithographs, a pin, and a badge, plus you can keep the bright orange T-shirt.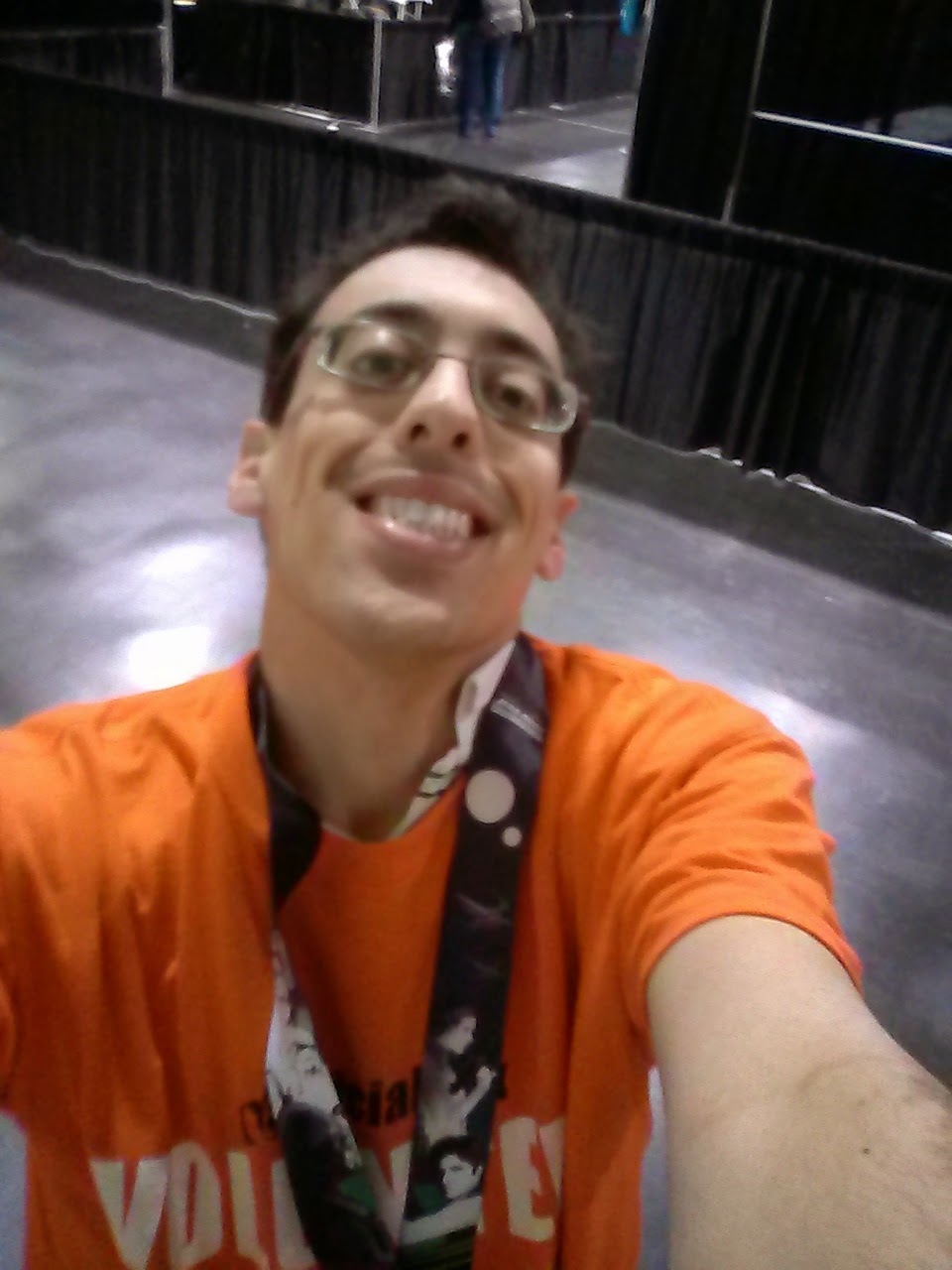 Volunteering for Official Pix.
Those of you who attend conventions they work with should definitely consider lending a hand.  They're awesome.
For the most part, I avoided the exhibitor's hall.  It was an absolute feeding frenzy with lines everywhere and everything marked up sky high. Still I bought an art print by a guy named Steve Anderson.  It was not Star Wars related, however.  Aside from that, and an abortive attempt to buy a Force Awakens t-shirt, I only wandered about for a bit and eventually picked up a poster I'd pre-ordered.   As an aside, getting the thing back to Mississippi intact took some doing. The vendor did not give me a poster tube, only a rectangular box with the instruction to never let it leave my side. Naturally it was longer than the 22 inches Delta Airlines specifies for carry-on luggage and my only suitcase needed to be checked.  So after some agonizing and worried asking around I decided to take a big risk and put it in my suitcase. First I rolled it very tightly.  Then I rolled some clothes around it and jammed the thing in such a way that it was not likely to move.  Despite my worst fears the poster survived intact from Santa Ana Airport to Little Rock, even making it through a connection in Atlanta.  In the future I will invest in a poster tube of some sort or ship such items, but its good to know a backup is available.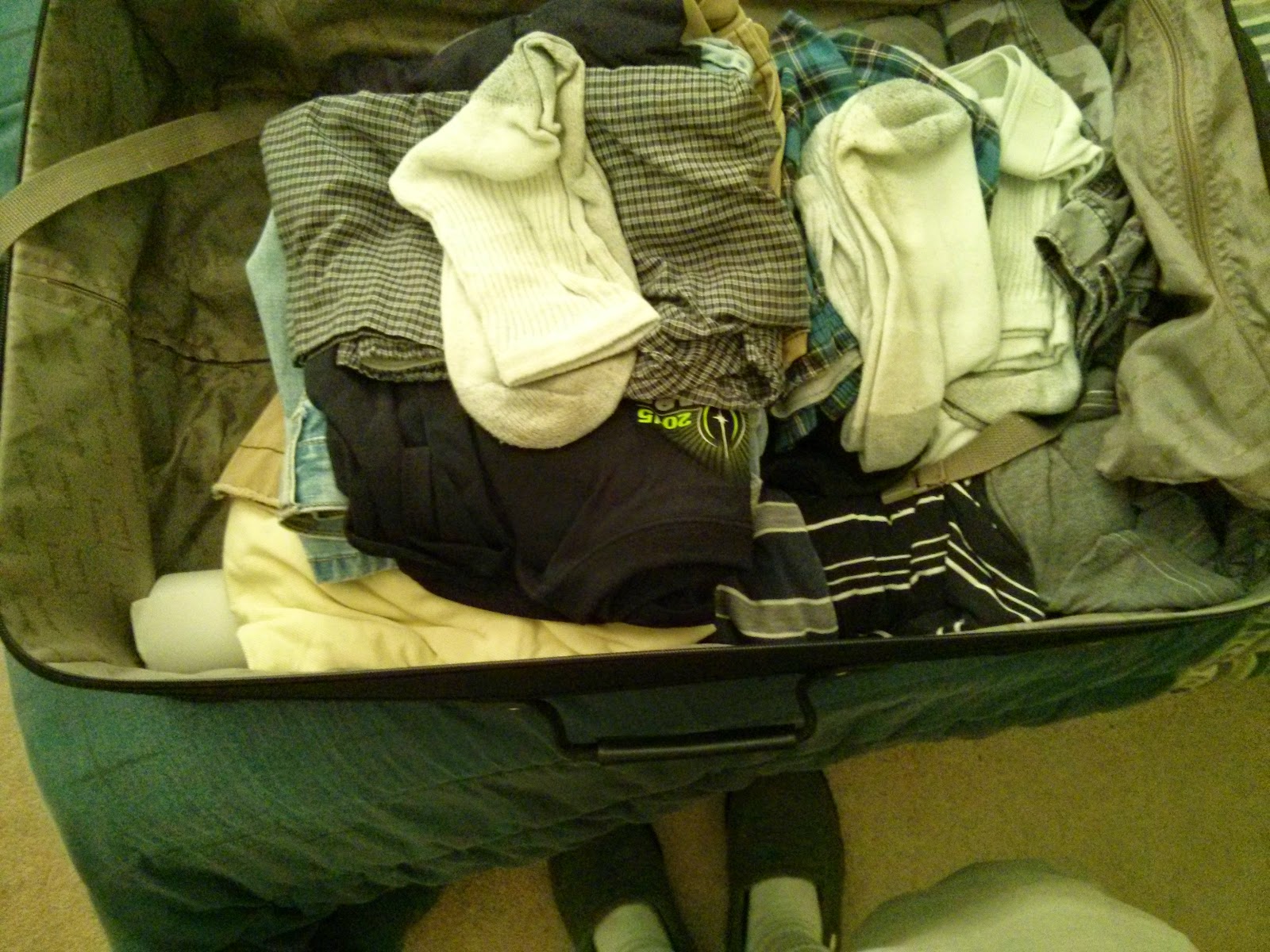 My suitcase upon returning home.  The poster is the white thing
in the lower left-hand corner.
Oh also this happened.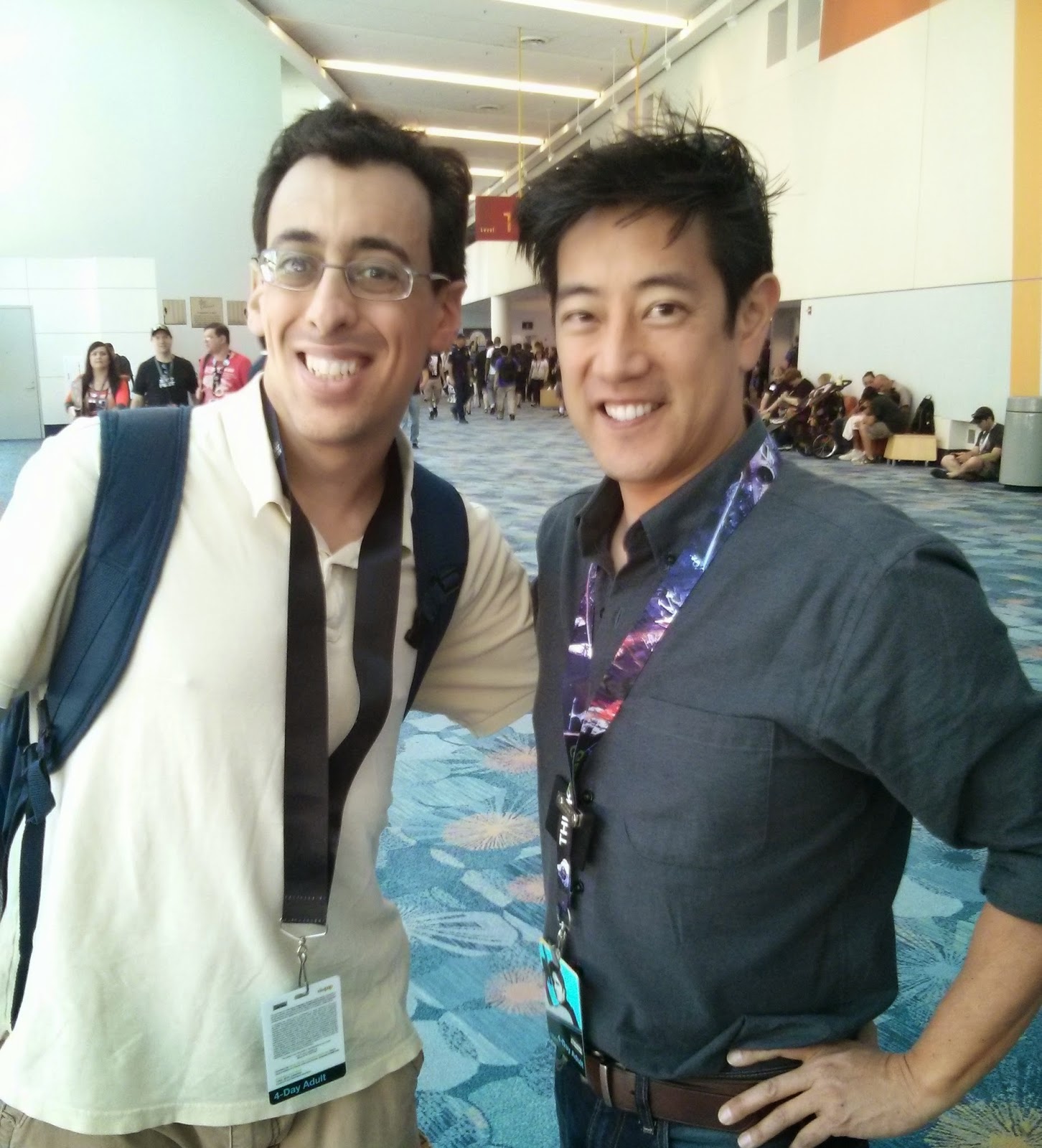 I first saw Grant Imahara when out with some buddies for dinner on Friday night.  Then we saw him again Saturday about to party with some of his friends.  So when I saw him and his girlfriend alone on Sunday afternoon, I took the hint from the universe and asked for his picture.  He very graciously allowed it to be taken.
Probably saying last weekend was a great time is an underestimation.  It's been a very long time since my last true vacation.   Between graduate school, relocating, work, and now living in the Delta getting away has been tough.  Last year's trip to Atlanta for the Catapult showcase was good though. Before that, the last true vacation I went on was Celebration V in 2010, just before entering graduate school. This one was better however.  Not only have I made friends for life, but have gained an appreciation of the social aspects of both conventions and cosplay.  These are things I intend to be involved in more often.
Being in Southern California also helped to contextualize where I live now.  Cleveland, Mississippi is a very small grain of sand on a very large beach.  The world can seem so far away from the isolated open spaces of the Delta, but there really is a lot more to life than Mississippi.  Some people around here seem to disagree.  Whatever.  To each his own.  Some day my life will take me back to the wider world. Until then I shall continue to ramble on.  In the meantime enjoy the panorama taken from the third floor of the Anaheim convention center.  You can view it an more at my Flickr account.