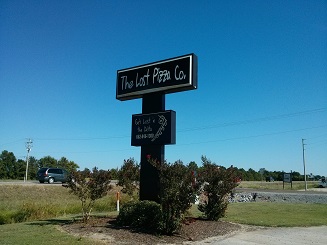 Early on one of the things I lamented was the lack of a good pizza place in Cleveland.  There is Domino's, Pizza Hut, and more recently Papa John's, plus frozen pizza from Walmart and Kroger.  However another place sits just beyond the edge of town on the south side of Highway 61.  It's called Lost Pizza Company.  I'd known about it since coming to Cleveland two years ago.  Several friends of mine had been there and said good things.  Yet being from New York I was skeptical.  New York is pizza mecca.   Regional variations exist (i.e. Chicago style), but pizza and New York are synonymous.
In other words, I had high expectations.  There are a few reasons why it took me two years to actually get to Lost Pizza.   For the most part I don't eat out.  And the few times I passed it, the place looked crowded.  My assumption was Lost Pizza was a sit down place like Pizza Hut where one could only order a whole pie.  But also – let's be real – I couldn't imagine it being all that great.
Eventually I realized I had to try it.  Lost Pizza is a Delta establishment and the purpose of my blog is to seek out the whole experience of living in the Delta.   So with my birthday being on Friday, I decided to give it a try.  With Delta State out of session and TFA long gone Cleveland is practically a ghost town.  Besides, it couldn't be worse than the $1 flavored cardboard I usually buy from the supermarket on Friday night.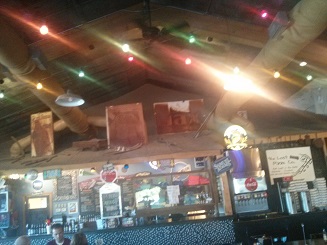 Let's start with the basics.  Lost Pizza is actually one of those fast casual type of places.  You order at the counter and they bring your food out.  As it turns out they offer individual sized pizzas.  So while you have to order a whole pie, the smallest is only 8 inches wide.   Unfortunately pizza by the slice is rare outside the Northeast.   My guess is there just isn't enough demand in places like Cleveland for the business model to make sense.  Yet given the size of a New York slice the actual amount of pizza in an individual pie is probably the same.   Lost Pizza also does take out so you don't have to sit there if its too crowded.
The ambiance is good.  The place is set up like a sort of junkyard with all sorts of "lost and found" things hanging from the walls.  On one side they have a VW bus where kids take pictures.  Next to it is a Nintendo Wii hooked up to one of the TVs on the wall.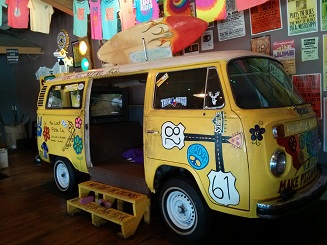 Many restaurants have televisions, but I've never seen a video game console before.  Its a nice touch.    The downside is the place does seem to attract a lot of families and kids.  Thankfully it was not crowded, but I'm not sure I'd want to be here on a busy day.  Fortunately there is always to take out option.
Ultimately I came to Lost Pizza for the food.   It was certainly edible.  I've always had a thing for thick crust and ordered their version of the meat lovers' pizza, known as The Otis.  It packed plenty of flavor with ham, pepperoni, bacon, sausage, ground beef, and chicken.  The size and thickness were perfect.
That said, I've had better pizza.  First of all, putting so many toppings on an eight inch wide pizza was a bit much.  The cheese, which for some reason was on top of the meat instead of the other way around, slid off easily.  I don't mean to say the cheese was in the semi-liquid state it usually is on pizza.  Rather it simple came off the bread along with most of the meat.  Lost Pizza doesn't say what kind of cheese they use, but it tastes different than what I've had up North.   Thankfully they gave me a fork, but pizza is supposed to be a hands on experience.  The bread was better.  It was plenty soft with a crispy outside, but it was kind of dry.  All the meat also made the pizza very salty.  I spent the rest of the night drinking glasses of water.  Admittedly I'd had a salami/pepperoni sandwich for lunch.  So take my complaint with, well, a grain of salt.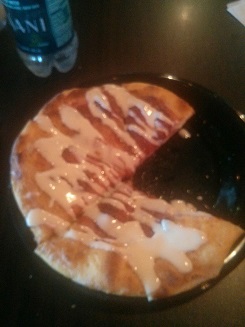 Probably the item which stands out the most is their dessert pizza.  No you did not just hallucinate those words.  Lost Pizza has several dessert pies.  They had a standard crust, but rather than cheese and sauce were topped with fruit and icing.  I had their Strawberry Fields pizza.  It was the same size as my dinner.  Surprisingly it was not very sweet and simply topped with strawberries and what tasted a little bit like cream cheese icing.   The concept is innovative.  I liked it.
Overall it wasn't a bad experience.  Lost Pizza was on par with Sbarro and  Uno Chicago Grill.  Most people from New York would consider those words an insult, but this is not the Big Apple.   Its not reasonable to expect people with no history of pizza to make the best slices on the planet.  The same holds true of barbecue up North, which I suspect many Southerners would not be impressed with.  In the context of the Delta, Lost Pizza is good.  I put it in the same category as the Italian ice one of the local establishments sells from its ice cream machines.  Perfectly acceptable given where we are, but not the real thing.
Some may disagree which is perfectly fine.  As I said earlier the only other pizza available is from fast food places and Pizza Hut.  In my opinion the actual food is not much better at Lost Pizza.  However the place has character the other ones don't.  It's also a locally owned and operated establishment.  Down here, that counts for a lot.  Any locally owned business is something to be proud of, especially in a place as impoverished as the Delta.  So while it may not be Valley Pizza or Turiello's its still a good establishment, one worth visiting again.