Yesterday I attended a local music festival called Anotherfest.  It was put on by a group called Keep Cleveland Boring.   Their name is meant to be sarcastic.  As I'm beginning to find out, there is more to do here than was initially apparent.
The format for Anotherfest involved various musicians playing at several venues around town such as cafes, an art gallery, and a bar.  They each began one after the other, rather than playing all at once, allowing attendees to walk from site to site throughout the day.  The festivities began at 2 PM and lasted till around midnight.  I stayed the entire time.
What was most interesting was the variety of acts.  Anotherfest opened with a local Blues guitarist, Bill Abel.  There were several rock bands and jazz bands and even some electronic music performed by two Delta State students who go by the names Argiflex and Save the Princess.  The organizer told me that there are a lot of people in the Delta who play music, but don't have a venue.  Given that the area is very rural, I am not surprised.  In Cleveland there are maybe five or six places that I've heard of where musicians can play and the town offers more than most around it.
Even more interesting is the diversity of acts Anotherfest booked.  Most people from up North associate the South with Country music.  There's certainly that.  But it's easy to forget that the Delta Blues, one of the earliest forms of the genre, came from here.  Memphis sits at the very top of the Mississippi Delta and Elvis was born in the state (Tupelo to be specific).   Even the state's license plate says "Birth Place of America's Music."
This area is diverse too, as I've hinted a bit over the last few weeks.  For example one of the venues for Anotherfest was a Coffee House called Alamar.  It is owned by a couple from Poland who were invited to teach at Delta State University about seven years ago.  Unfortunately I didn't get their names, but the husband has a background in computer science and his wife is an astronomer. They sell an awesome Polish carrot/fruit juice combination called Kubus.  The picture below is of a map they have in the shop.  Each tack represents either a place their customers are from or somewhere they have visited.
So Cleveland continues to surprise me.  Bill Abel told me of several music festivals around the Delta throughout the year.  I look forward to attending some of them, time permitting.
One last thing.  Over Memorial Day weekend, my dad, stepmother, and I took a trip down to Vicksburg.  At the time I didn't post about it because there were so many pictures from the trip down to put up.  So I've uploaded those my dad and I took there to Flickr.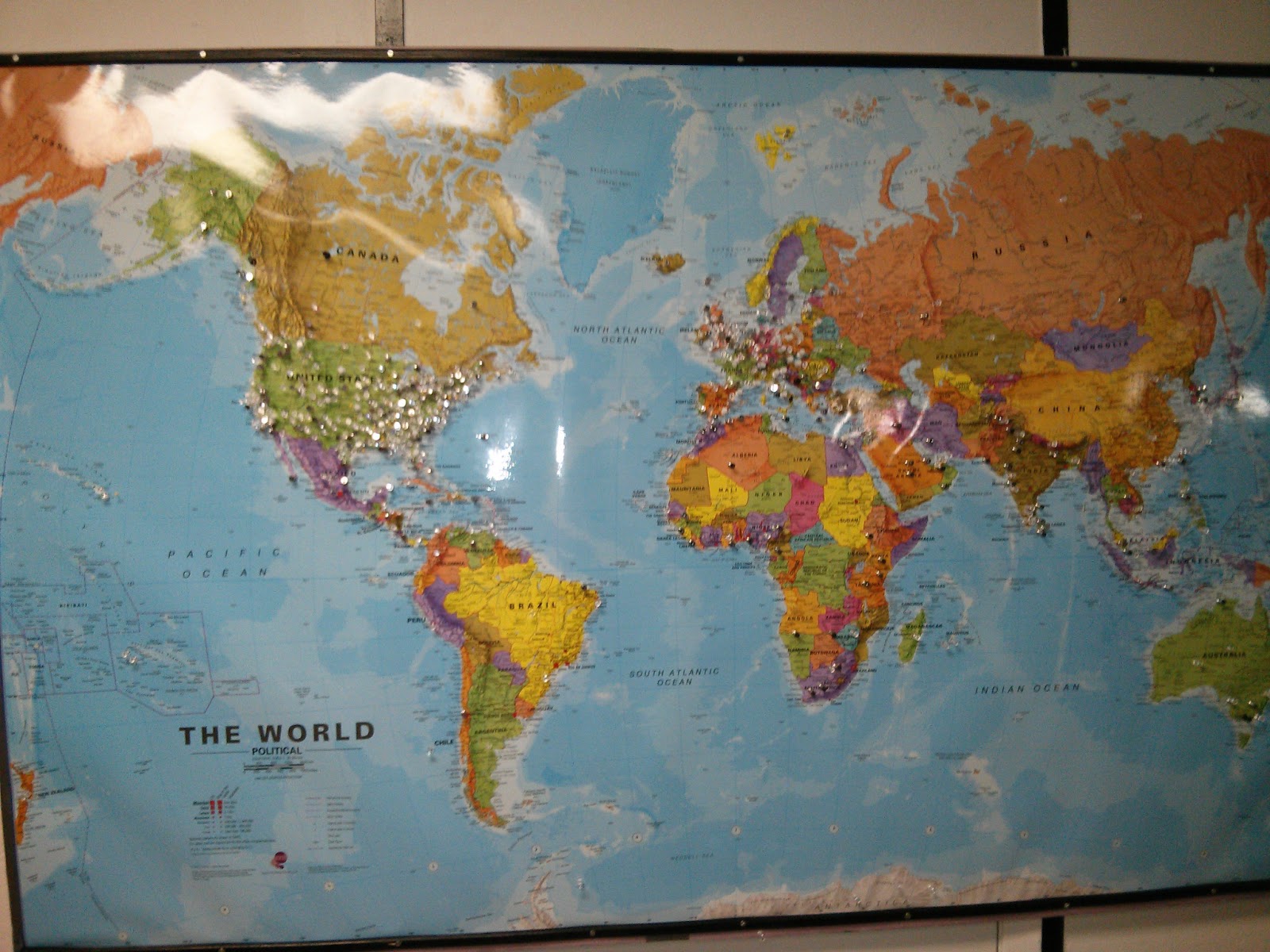 This map shows where Alamar's customers are from and places they have visited.